The wines of Domaine Leroy enjoy an almost mythical reputation amongst collectors and the minuscule production coupled with fevered demand means the best wines are becoming harder and harder to source at competitive prices. Burgundy's meteoric rise in recent years has caused the prices of the top domaines to move sharply upwards. This growth has shown no signs of slowing and in 2022, the Burgundy 150 index from Liv-Ex grew 14.62% in Q1 and a further 6.69% in Q2 to date. As such, when wines from domaines at the apex of the region, such as Domaine Leroy, become available, you shouldn't let them pass you by. 
Domaine Leroy produce simply the finest wines in the world. Madame Lalou Bize-Leroy, also known as the "Queen of Burgundy wine" joined Domaine Leroy in 1955, taking over as managing director from her father in 1971 – who had previously purchased 50% of iconic Domaine de la Romanée Conti (DRC) in 1919. From 1974 to 1992 Lalou Bize managed DRC along with Aubert de Villain. Upon Henri Leroy's death in 1980, she inherited the family's Maison Leroy holdings and then brilliantly bought other prime plots to create her fabled domaine wines. In 1992 she left DRC, though retaining ownership, to focus on Domaine Leroy and Domaine d'Auvenay.
Comprised of just over 21 hectares, Domaine Leroy boasts impressive holdings across nine Grand Crus and eight Premier Crus. Farmed biodynamically since 1988, Lalou Bize redefined Burgundy techniques, focusing on quality above all else with methodical grape selection pushing yields down to 15hl/ha on already tiny plots. Famously, Lalou Bize believes the wine makes itself; the challenge is to provide the highest quality grapes and as a result a large part of the Domaine's efforts are concentrated in the vineyards.
Today Domaine Leroy has achieved unrivalled status. Currently, 8 of the 20 most expensive wines in the world are produced by Leroy and production is minuscule – some of the plots produce one, maybe two to four barrels a year, with each barrel equating to only 100 bottles. While four of the First Growths make 20,000 cases plus a year each (across 22 hectares which comprise 25 different vineyards), Domaine Leroy produces just 600 cases. The minuscule DRC Romanee Conti produces more than this alone, while DRC La Tache releases three times this.
The performance figures observed in the wines of Leroy have ranged from staggering to eyewatering over the past decade. Since June 2012 the wines in today's parcel have increased by an average of 892.72%. A breakdown of the unbelievable performance seen in each wine can be found in the table below:
| | | | |
| --- | --- | --- | --- |
| Wine | Jun-12 | Jun-22 | Perf |
| Domaine Leroy Les Beaux Monts | £438 | £5,113 | 1067.35% |
| Domaine Leroy Clos de Vougeot Grand Cru | £621 | £5,873 | 845.73% |
| Domaine Leroy Romanee-Saint-Vivant Grand Cru | £887 | £8,780 | 889.85% |
| Domaine Leroy Aux Brulees | £648 | £4,933 | 661.27% |
| Domaine Leroy Richebourg Grand Cru | £1,286 | £8,933 | 594.63% |
| Lalou Bize Leroy Domaine d Auvenay Puligny Montrachet Les Enseigneres | £600 | £10,842 | 1707.00% |
| Average | £746.67 | £7,412.33 | 892.72% |
* Average price from Jan 2017 due to unavailable pricing data. 
Moreover, it is showing no signs of slowing. The chart below shows a rebase of the average prices since Jan 2020 and demonstrates the velocity Leroy wines enjoy.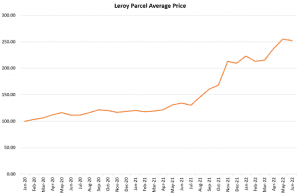 Born in 1932, Madame Bize is now 90 years old and sadly won't be able to oversee many more vintages. Her legacy is however complete, and demand will only increase rather than abate in the years to come. As can be seen above, the wines show no signs of cooling and as such, the wines available today still have a lot left on the table in both the medium and long term. As time goes on and the top wines from Leroy become rarer and rarer, those with positions may see a stratospheric price rise in these wines, which can only be described as the blue-chip of blue-chip.
Interested in the wines of Domaine Leroy? Contact us or speak to your account manager to find out more and secure an allocation for your portfolio.